Our clients in Oak Ridge North wanted to reclaim a home that was passed down from the family. With typical compartmentalized and closed off living spaces, the flow and feel of the home needed an upgrade.
On this project, we blew out multiple load bearing walls, and restructured the attic floor above with new engineered I Joists. A brand new kitchen turned this dated area into a modern living space.
This home in The Woodlands was not in bad shape, but was in need of a face lift. We helped our client transform her home from a 1990's traditional style, to a modern Farmhouse style.
This remodel we painted everything in the entire home, new wood flooring, quartz countertops, new wall with barn door, and created larger opening in load bearing walls.
To Buy New or Remodel Old
Our wonderful clients were trying to decide between buying a new home, or remodeling their current home in Oak Ridge North in Spring. Between not wanting to move and not wanting a property tax increase, they decided to remodel! Lucky for us, we were there waiting and ready. With kids grown and out of the house, they were ready to make their home their own.
This remodel total included a full kitchen and half bath remodel, removal of several load bearing walls, all new flooring and paint downstairs. The home transformed from a typical 70's look, to a new contemporary residence full of modern touches.
See Below for the Transformation!
Sometimes, a good space isn't good enough. Our client in Sterling Ridge in The Woodlands did not have a terribly outdated kitchen, but just wanted something more. Something modern, tasteful, elegant, and full of usability.
This beautiful kitchen remodel incorporated sleek blue cabinets, complimented by a gorgeous white Quartz with grey veining. Large pantry cabinets were used, along with high end appliances.
See below for the Transformation!
Sometimes we can live with our kitchen's design flaws or outdated looks. But sometimes, we just can't. A complete overhaul was required for our client, and with our client's vision and a lot of hard work, we made it come to life.
This beautiful transformation included a complete new kitchen design, Cherry wood cabinets with a modern flat frameless European look, New wood floors, and high end appliances. We also utilized the hallway coat closet and turned it into a walk in pantry!
See below for the transformation!
Century old homes can be full of charm and character. But they can also be full of terribly tight rooms, beyond outdated materials, and a feeling of abandonment. With our client, we blew open wall and completely transformed her 1920's home into a modern living house.
This remodel included a wall removal, new modern cabinetry and appliances, and a refinished wood floor.
And sometimes we forget to take good before pictures because we are too excited about starting demolition and we just forget.
See below for the transformation!
Having wanted a new kitchen for so long, this homeowner finally got the chance put make it all new. With new cabinetry, an expanded room, and new flooring, this kitchen was completely transformed.
This remodel included removing a load bearing wall that separated the kitchen from an adjacent bedroom, creating one larger kitchen, new cabinetry, new flooring, and granite countertops and backsplash.
See below for the transformation!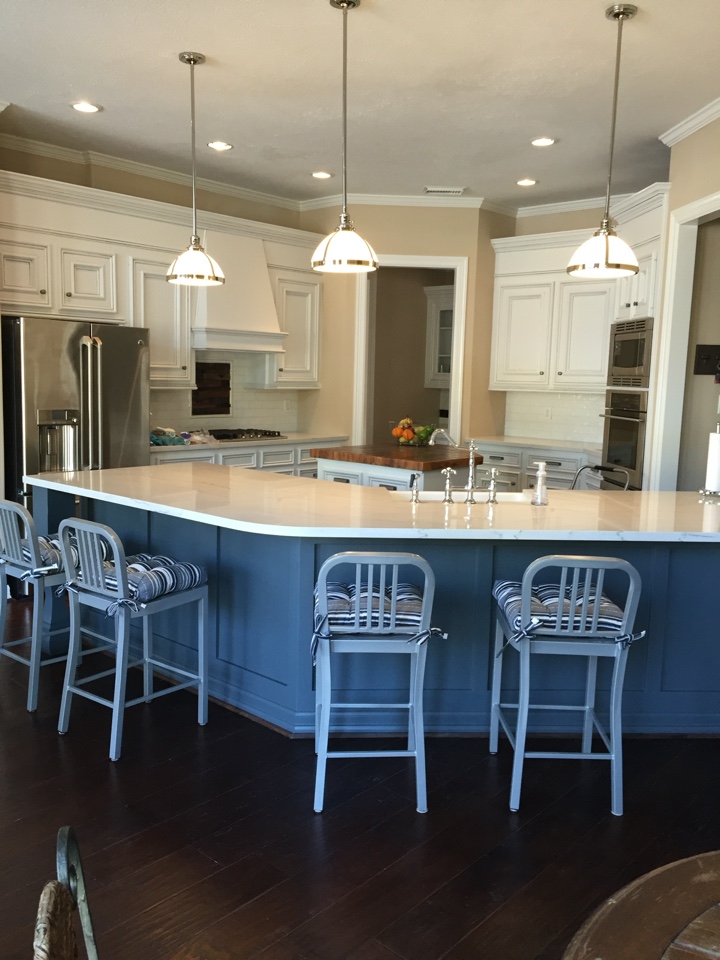 Our client in the North Hampton neighborhood in Spring, TX wanted to freshen up their newly purchased home by giving the kitchen a face lift.
Some custom cabinetry, paint, lighting, Cambria Quartz countertops, and a reclaimed wood counter, we were able to give this remodeled kitchen a whole new feel!
See below!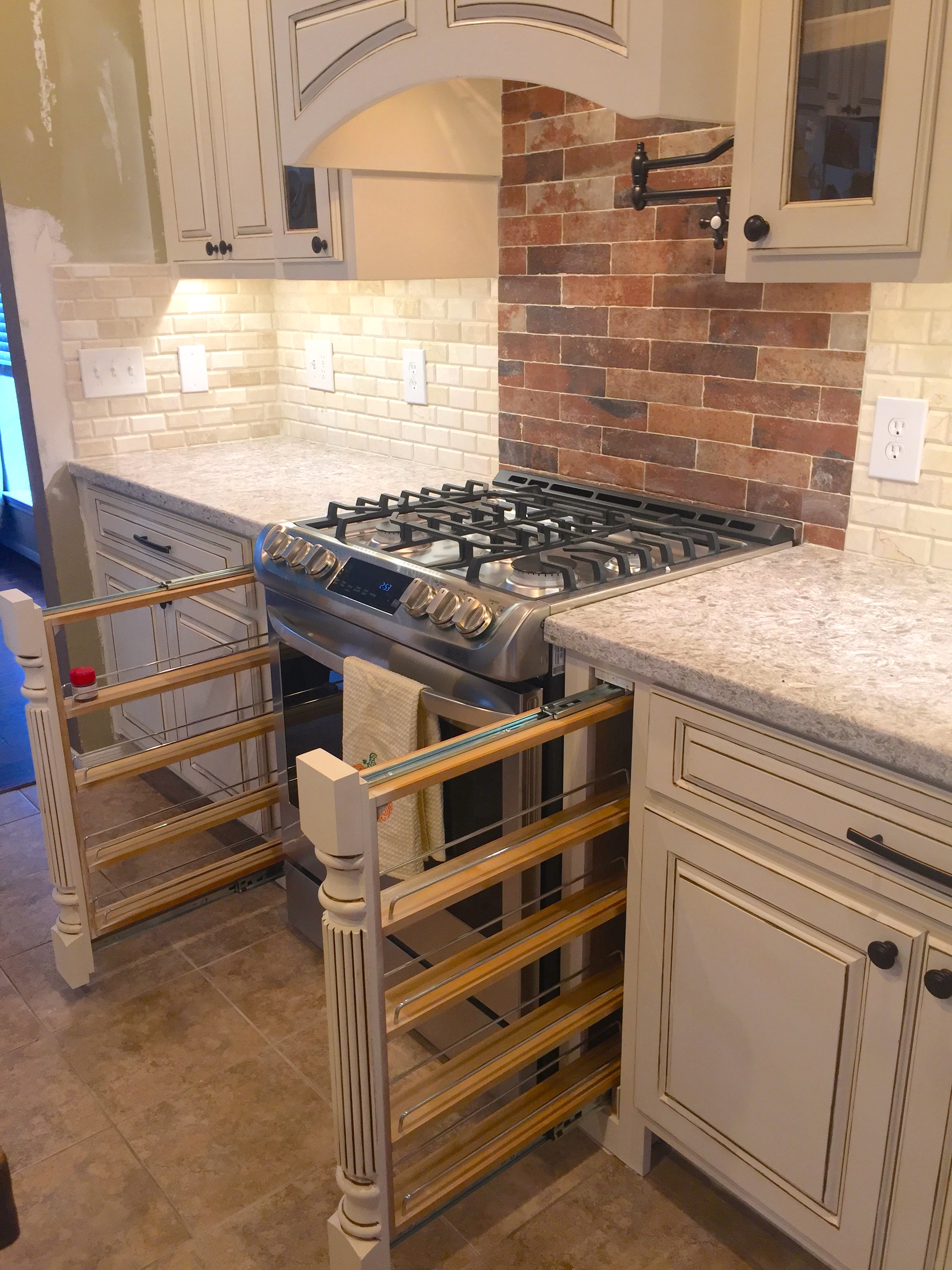 Young Family, New Kitchen
Our client in Imperial Oaks in Spring, TX wanted to remodel to old and dysfunctional kitchen to be more practical, stylish, and smart.
In this kitchen we built custom cabinetry, backsplash, spice pull outs, and a hand applied glaring effect.
See more below!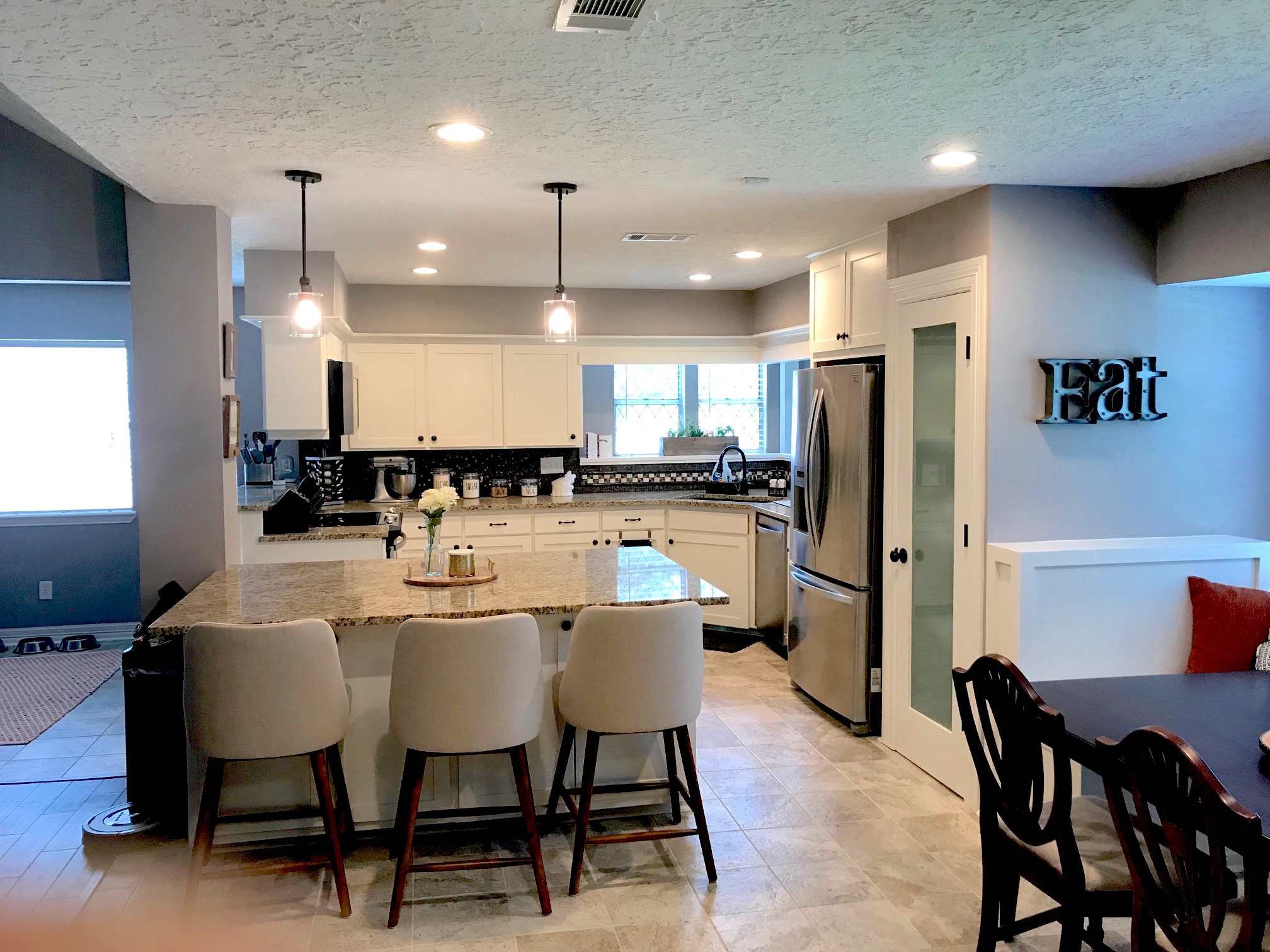 Our client in Spring, TX wanted to remodel their kitchen to feel more open and create one large living space.
To accomplish this, we installed several load bearing beams, a new island and bend seating, pantry, and flooring.
See more below!
We completely remodeled this kitchen in Spring, TX to incorporate new glazed cabinetry, custom woodworking, and perfect functionality for the homeowner.
Expanded Modern Farm Kitchen
We completely transformed this kitchen in The Woodlands. By removing the wall between the kitchen and dining, and adding a few hundred square feet of space to the home, this kitchen was perfect.
All custom built cabinetry, and a custom reclaimed wood countertop on the island.
OUR REMAINING KITCHEN PORTFOLIO